Genie Nano Multicast with CVB
Teledyne Dalsa Genie Nano cameras and Common Vision Blox support Multicast. With Multicast, it is possible to send packets to many recipients in the same network.
In IPv4, the address range from 224.0.0.0 to 239.255.255.255 is reserved for Multicast.
The configuration can be done using the GenTL or the CVB GenICam driver.
Combined with the feature Turbodrive, which is supported by all Genie Nano cameras, the configuration has to be done with the CVB GenICam driver, because the Turbodrive feature is implemented in the driver.
Tested Software versions:
Operating system: Ubuntu 16.04 || Windows 10
Common Vision Blox: 13.01.003
1)Configuration using GenTL (SI GEV TL) in GenICam Browser

Master (Read/Write) configuration:
•Open GenICam Browser
•Configure and save your device settings
•Right-click on the configured device
•Select Open Mode -> Control
•Select Master and confirm with Set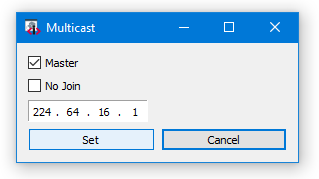 Slave (ReadOnly) configuration:
•Open GenICam Browser
•Configure and save your device settings
•Right-click on the configured device
•Select Open Mode -> ReadOnly
2) Configuration using CVB GenICam driver (GenICam.ini data)
•Configure the GenICam.ini file
odirectly in %CVBDATA%\Drivers directory on Windows or in etc/opt/cvb/drivers on Ubuntu
oor with the GenICam.vin driver settings in GenICam Browser Configured Devices
Master (Read/Write) configuration:

•Set the AccessMode = 3 (Control)

•Set MCMasterMode = 1

Slave (ReadOnly) configuration:

•Set the AccessMode = 2 (ReadOnly)

•Set MCMasterMode = 0