Every GenICam camera supports a functionality to save at least one User Set over the User Set Selector, i.e. a user exclusive camera features configuration.
User configurations can be set and also be chosen to be the default configuration loaded when the camera is switched on with setting the Power-Up Configuration Selector.
✓ Select a User Set
✓ Save configuration into selected User Set
✓ Configure the User Set as Power-up Configuration Selector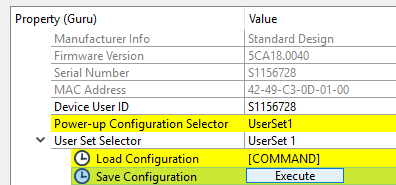 The factory configuration is not touched at all, such that restoring the initial settings at a later point in time is possible with Device Reset.